So, you're about to set up your new online store website and you're look at ecommerce platform options. There are a TON of options out there, almost all of which promise ease of use and a really simple website builder to get your online and selling in no time at all. One such platform is BigCommerce.
121,000 people every single month search for "BigCommerce" in Google across the globe. But one primary consideration for ecommerce business owners is how they drive the sales. One channel that (when executed correctly) can prove a really cost effective traffic and sales generator is SEO.
So how does BigCommerce perform from an SEO point of view and what are the common SEO problems with the platform in 2021?
Is BigCommerce Good for SEO?
BigCommerce ticks some of the basic requirements from an SEO perspective:
It has modifiable page titles and meta descriptions
You can easily edit and optimise the content on category pages, product pages and others
You can set your own alt tags on images
Modifiable robots.txt for those who want control over how Google crawls their website
That's not to say it's without its issues. Here are some of the most notable BigCommerce SEO problems in 2021.
1. It's Really Difficult to Modify Canonical Tags
There are all sorts of reasons you might want to change the canonical tag on a product page, for example, to point to another as its canonical. You might, for example, have two relatively similar products but different enough to warrant their own product listings. In this case, an SEO move might be (if the content is similar on each page) to implement a canonical tag on the secondary page to point to the primary as the main one.
This would be a perfectly legitimate move from an SEO perspective. But BigCommerce doesn't make this easy at all.
There's a "Search Engine Optimization" section on each category and product page within the CMS. But canonicals do not live here.

In fact, it's an on going bone of contention for many SEOs with a number of threads on the topic over on the BigCommerce support boards like this one.
In fact, BigCommerce advises one user that they'd need to make modifications using Javascript. Not overly "user friendly" for your typical user.
This should be a really simple addition to the SEO section of pages and would eradicate a number of complaints for BigCommerce.
2. Poor Core Web Vitals Performance
This is an SEO issue that affects Shopify at the time of writing too. In November 2020 Google gave users a 6 month advanced warning of some changes coming in May 2021:
Essentially, "Core Web Vitals" (alongside other page experience signals) will play a more significant role in how websites rank in search.
You can already assess Core Web Vitals metrics in the Page Speed Insights tool. Just pop your URL in and you will get a simple pass or fail.
We put 20 BigCommerce sites from this list through the Core Web Vital test and:
19/20 failed the test on mobile and desktop for the homepage
18/20 failed the test on mobile and 17 on desktop for a category URL
19/20 failed the test on a product URL on both mobile and desktop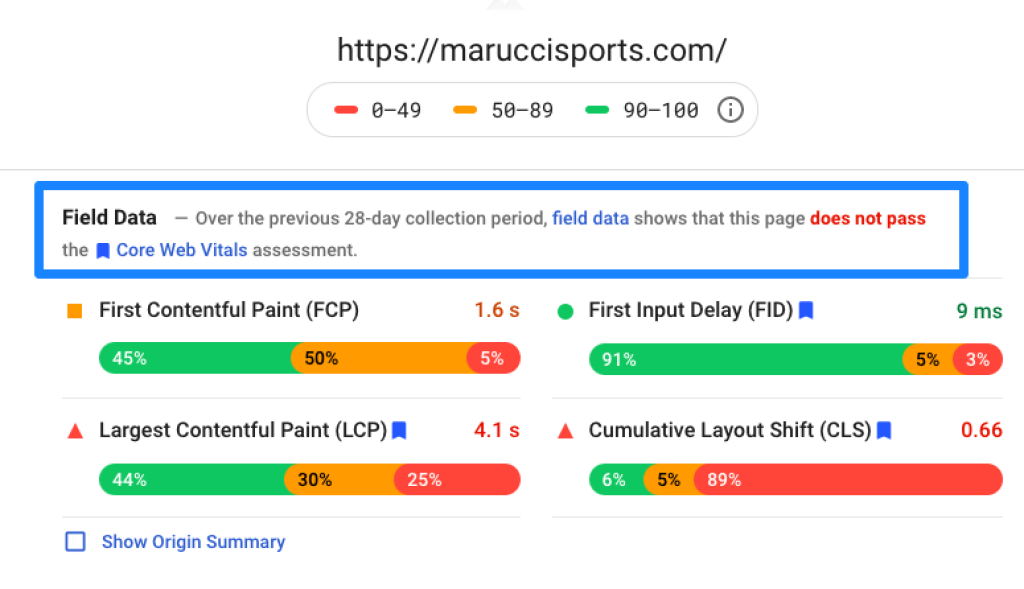 We're 4 months out from this becoming an issue from an SEO perspective. And lots of this could be down to configuration of specific sites, but this is certainly likely to become a bigger SEO concern as we approach May 2021.
3. No Ability to Create Blog Post Categories
So nobody signs up to BigCommerce as a blog-first platfor, right? We know that. But increasing use of content for various marketing functions by all sorts of business, including online retailers, places a real emphasis on the blog. Blog content can be used by online retailers to answer questions and drive users seeking information that might result in purchase.
Blog category pages can be useful to optimise from an SEO point of view. For example, let's set you sell fitness equipment and you write blog content about various workouts, equipment and nutrition. You could have all of your posts on spin bike workouts in a blog category called "Spin" and this category page optimised for "Spin bike workouts" or similar.
Not in BigCommerce though. You can use tags in BigCommerce, not categories. And those tag URLs are, by default, set up with a canonical tag pointing back at the main blog URL so they're highly unlikely to get indexed anyway.
As SEO and content are so closely interlinked, a little more basic blog functionality would be really useful.
Is BigCommerce Recommended for SEO?
There are a lot of features that BigCommerce offers from an SEO point of view that make it a little more flexible from an SEO perspective than competitor platforms like Shopify. Modifiable robots.txt files, control over page titles, meta descriptions and auto 301 redirects when a product URL changes are all useful.
And indeed some BigCommerce websites rank very well. But on the whole there's a lot of room for improvement. If you're an online retailer who plans to make use of blog content as a part of your SEO strategy, BigCommerce is weak in this area and it might be worth looking elsewhere. And we'd be keen to see if BigCommerce makes any improvements to help its customers fare better on Core Web Vitals tests.